18 May, 2020
To celebrate National Volunteers Week 18 May –24 May 2020, we've spoken with two of our wonderful volunteers to get their insights on working with our incredible collections.
The Australian Performing Arts Collection and Public Art Collection at Arts Centre Melbourne welcome the skills of a limited number of volunteers to assist with collection related tasks and projects. Volunteers are able to apply their knowledge and skills and gain valuable experiences, while Arts Centre Melbourne can make meaningful connections with the wider community.
Introducing: Sandy Graham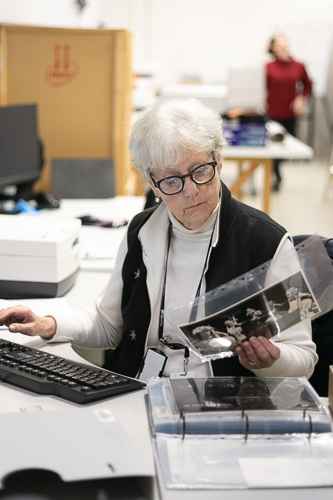 Arts Centre Melbourne Volunteer Sandy Graham in the Collections Store.
I have a long association with Arts Centre Melbourne reaching back to 1983 when I started work in the Programming Department of the then Victorian Arts Centre. Over the years I was fortunate to work with many great Australian performers and experienced the joy of working alongside the legendary Betty Pounder.
I have always been interested in theatre history and this intensified when I discovered the Performing Arts Collection and, in the early days, the wonderful Performing Arts Museum. Becoming a volunteer has been a privilege and a pleasure; there are so many stories to tell.
What I enjoy most about the work is the opportunity to delve into a collection; to get to know the artists through their photographs, reviews, correspondence, memorabilia…and discover their personal stories as well as the trajectory of their careers. The Googie Withers & John McCallum collection is a prime example.
My favourite collection is the Irene Mitchell/Little Theatre collection. This is purely personal as I was lucky enough, at the age of 16, to be taken under Miss Mitchell's wing and to have the opportunity of appearing in and working on a number of Little Theatre productions. Under her guidance, in addition to a love of theatre, I learned discipline, respect and the joy of being part of the team. Her achievements were many. She was a great woman of the theatre.
Set design by Anne Fraser for Tiger at the Gates, directed by Irene Mitchell, Little Theatre, Melbourne, 1956; Gift of Anne Fraser, 1996, Australian Performing Arts Collection, Arts Centre Melbourne
Introducing: Katrina Watson
Arts Centre Melbourne Volunteer Katrina Watson.
My volunteering started about 12 months ago when I was a studying Master of Cultural Materials Conservation at University of Melbourne. I was invited to help with a condition assessment audit of Art Centre Melbourne's Public Art Collection.
As a musician in a past life, I was aware of Arts Centre Melbourne's important role in preserving performing arts heritage through the Australian Performing Arts Collection and the Australian Music Vault. I saw the call for volunteers and jumped at the opportunity as Arts Centre Melbourne had always been in mind as a place that combines two of my great interests, music, and conservation.
I have been fortunate enough to assist with three vastly different collection projects; the Public Art Collection audit, documentation for a travelling exhibition and recently a rehousing project. I have really enjoyed putting my conservation skills into action while working with a world class collection, learning new skills, and meeting and working with a great team of people.
I don't have a favourite collection object but I really enjoyed working with material from the Kylie Minogue collection. I have never considered myself a fashionista but can appreciate the amazing and intricate work that is involved with her costumes. It's also been really fun blasting Kylie tunes, reliving all the memories and music that accompanying the costumes, which just go to show the importance of collections such as these to share cultural experiences.
My favourite thing about the collection is the variety of objects – volunteering at Arts Centre Melbourne is really interesting and at times challenging in a good way.
Costume designed by John Galliano, Kylie Showgirl: Homecoming tour, 2006; Gift of Kylie Minogue, 2008, Australian Performing Arts Collection, Arts Centre Melbourne
Discover more about the Australian Performing Arts Collection and Public Art Collection at Arts Centre Melbourne